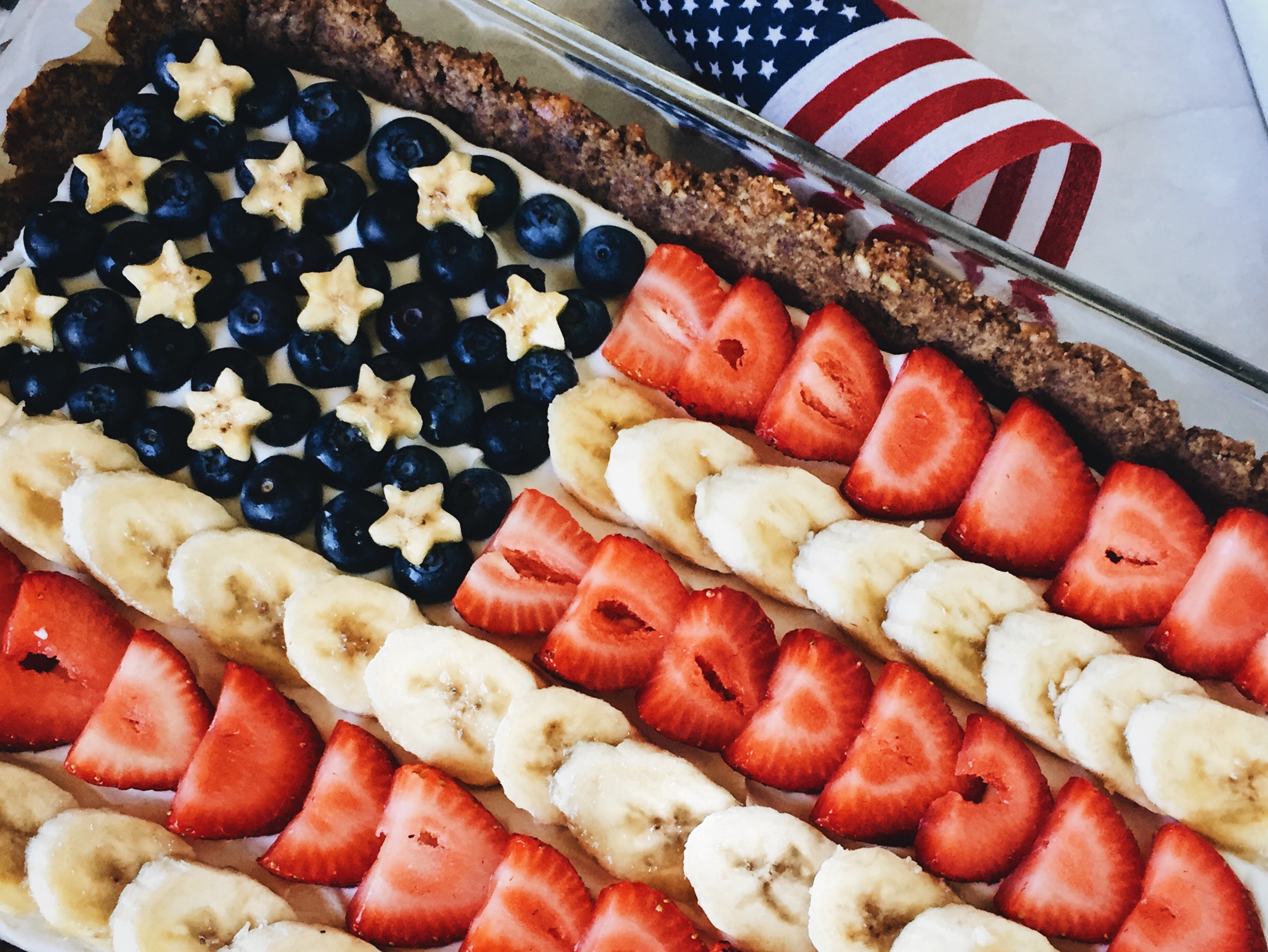 30 Jun

4th Of July Sugar-Free Flag Cake!

There is definitely something about the 4th of July and dessert for me! Apparently I can't have one without the other.

This year has proven to be a little bit trickier for me since I have two corporate companies still going through a Sugar Elimination Challenge (SEC)…. which means, no sweeteners of ANY KIND and very limited fruit. So even though my watermelon cake – which I posted two years ago and is always a HUGE showstopper for ANY party – is technically sugar-free (if you omit the maple syrup in the coconut cream), I don't allow watermelon on the SEC program so that meant I couldn't do it this year.

Thank goodness for berries and unripe bananas though! I do allow up to 1 cup a day of strawberries, blueberries, blackberries and raspberries as well as one unripe banana – so between those fabulous fruits, you actually have a bit of flexibility when it comes to making a truly sugar-free dessert.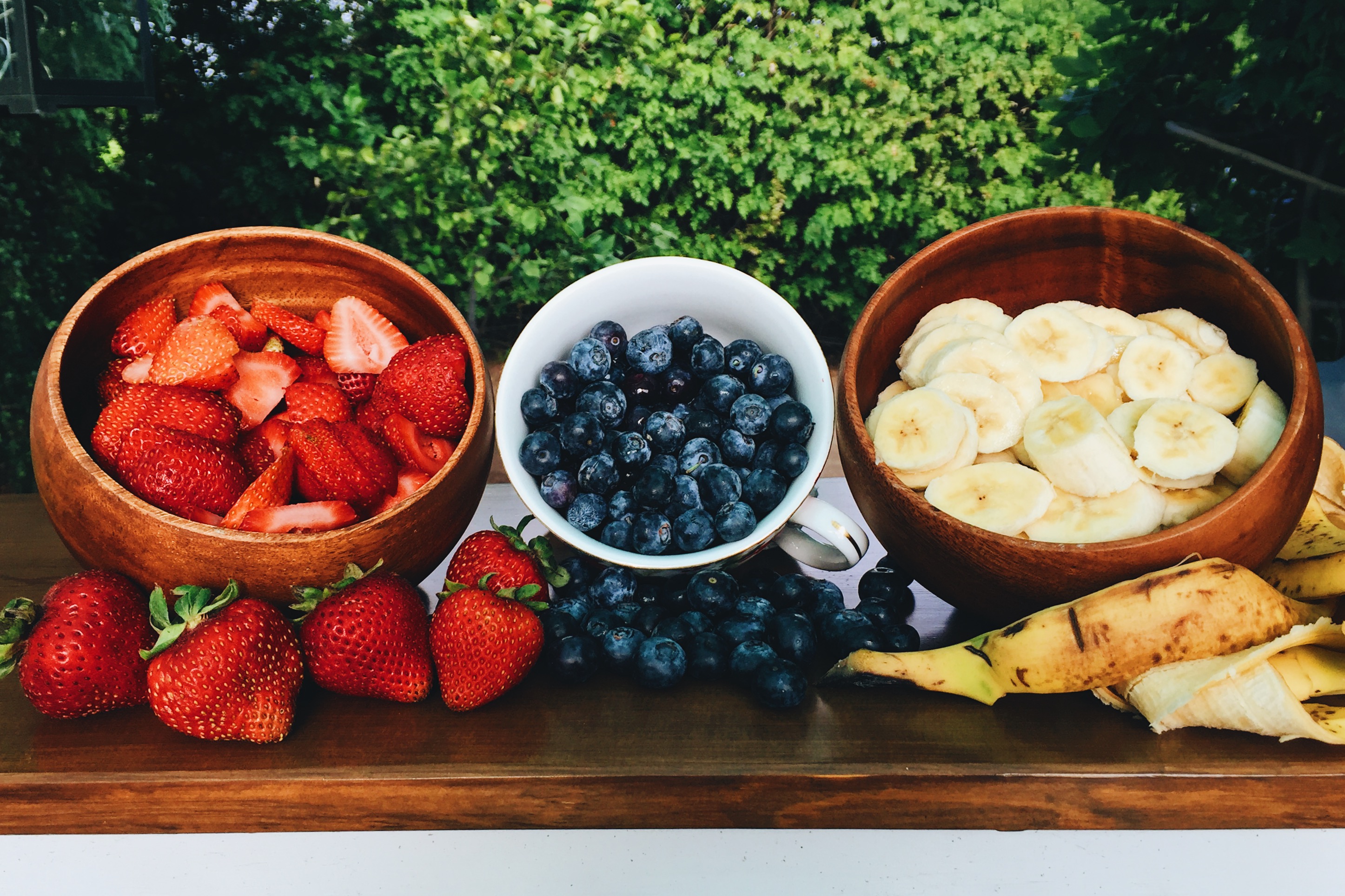 Incidentally, I always surprise a lot of people with the fact that I allow bananas on my challenge and then the question almost always come up as to why they have to be unripe. Here's the short answer….
Banana's contain a type of starch called "resistant starch" (RS). This starch cannot be digested in the stomach or small intestine so it reaches the colon intact.  Thus, why it's called resistant starch because it "resists" digestion.  This also explains why we don't see spikes in either blood glucose or insulin levels after eating RS, and why we do not obtain significant calories from RS.
According to Dr. Amy Nett, MD, the normal human gut has hundreds of bacterial species, some are good and some not so good.  The overall number and relative quantity of each type has a profound effect on our health and well being.  Resistant starch selectively stimulates the good bacteria in our intestines, helping to maintain a healthy balance of bacteria overall.
Alright, so back to the recipe.
I've always wanted to do a flag cake for the 4th of July, I remember my mom doing these when we were kids, and with the ability to use berries as well as my favorite sugar-free coconut whipped cream, all I really had to figure out was a good pie crust – and after a little bit of trial and error, we found success!
Ingredients:
For the Crust
-¾ cup pecans
-1.5 cups almond flour
-¼ teaspoon salt
-¼ teaspoon baking soda
-½ teaspoon cinnamon
-½ teaspoon vanilla
-4 tablespoons cold grass-fed butter or coconut butter
– 2 tablespoons maple syrup (optional)
-1 egg
For the Coconut Whipped Cream
– 3-4 cans of cold coconut cream (the hard part to this is always finding a good can of cream that doesn't contain too much guar gum. Right now I've been using Sprouts Organic Coconut Cream with the blue label and it's been working great! Also, make sure to leave your cans in the fridge for at least 24-48 hours so they can get good and cold and really separate well.)
– 2 Tbsp non-alcoholic vanilla extract
– 2 Tbsp maple syrup (optional)

Directions:
Preheat oven to 350 degrees.
Place the pecans in a food processor and process until you have a coarse flour. Add the almond flour, salt, baking soda, cinnamon, butter/coconut oil, egg, and vanilla and pulse until a ball of dough forms. In the pictures above I used an immersion blender because I actually forgot to grind the pecans first and it still turned out!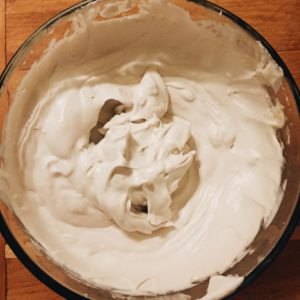 Next, in a large mixing bowl combine the vanilla and coconut "cream," and maple syrup (if using). Before opening the can, make sure it's cold so that the cream and the milk have a chance to separate. Reserve the milk for other recipes and only use the thick cream at the top of the can. Now, using a handheld mixer or immersion blender, blend on high for about 2 minutes. The consistency should be fluffy (and maybe just a little runny). Place in the fridge for at least 15 minutes to help it set.
Place some parchment paper down on your pan and using the palms of your hands, press the dough into the bottom and up the sides of your tart pan or pie dish. Cut another piece of parchment paper and lightly press it onto the top of the crust. Then place pie weights or a pie dish or plate on top and then bake for 10 minutes. Remove the top dish and parchment and bake for another 5 minutes.
Let cool. Then spread evenly with coconut whipped cream. Arrange with berries and enjoy!
*IF YOU PLAN TO — USE BANANAS, MAKE SURE THAT YOU CUT THEM RIGHT BEFORE SERVING. If they sit too long they will turn brown. I cut mine about 30 minutes before serving.
** To make the size of cake pictured you'll need to double your recipe.