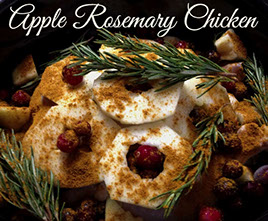 Ingredients:
Directions:
1. Place chicken into the slow cooker and arrange potatoes, cherries and apple slices along the sides and on top of the chicken.
2. Pour bone broth over the chicken and sprinkle with salt, pepper and paprika. Add the sprigs of rosemary and cover.
3. Cook on LOW for 6 to 8 hours or on HIGH for 3 to 4 hours.
Enjoy!