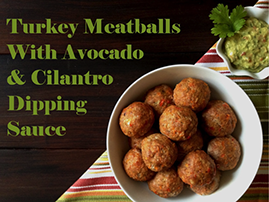 Ingredients:
Directions:
1. Preheat oven to 375 degrees and grease a 9 x 13 baking dish.
2. Add carrot, onion, red pepper, cilantro, ground turkey and salt and pepper to taste to a large bowl and mix thoroughly. Using a tablespoon, scoop the mixture and roll into meatballs the size of ping-pong balls.
3. Transfer each one to the baking dish and then place in the oven and bake for 30 minutes.
Sauce
Enjoy!