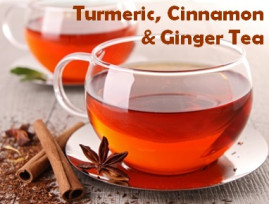 Prep Time: 5 minutes
Yields: 1 serving
Ingredients:
1 cup water
1/4 teaspoon ground turmeric
1/4 teaspoon ground ginger
1/4 teaspoon ground cinnamon
Splash of coconut milk
Dark leaf stevia, to taste
Directions:
In a small saucepan, bring water to boil. Add turmeric and ginger, reduce heat, and simmer for 10 minutes.
Stir in milk and strain tea into a cup. Add stevia and enjoy!