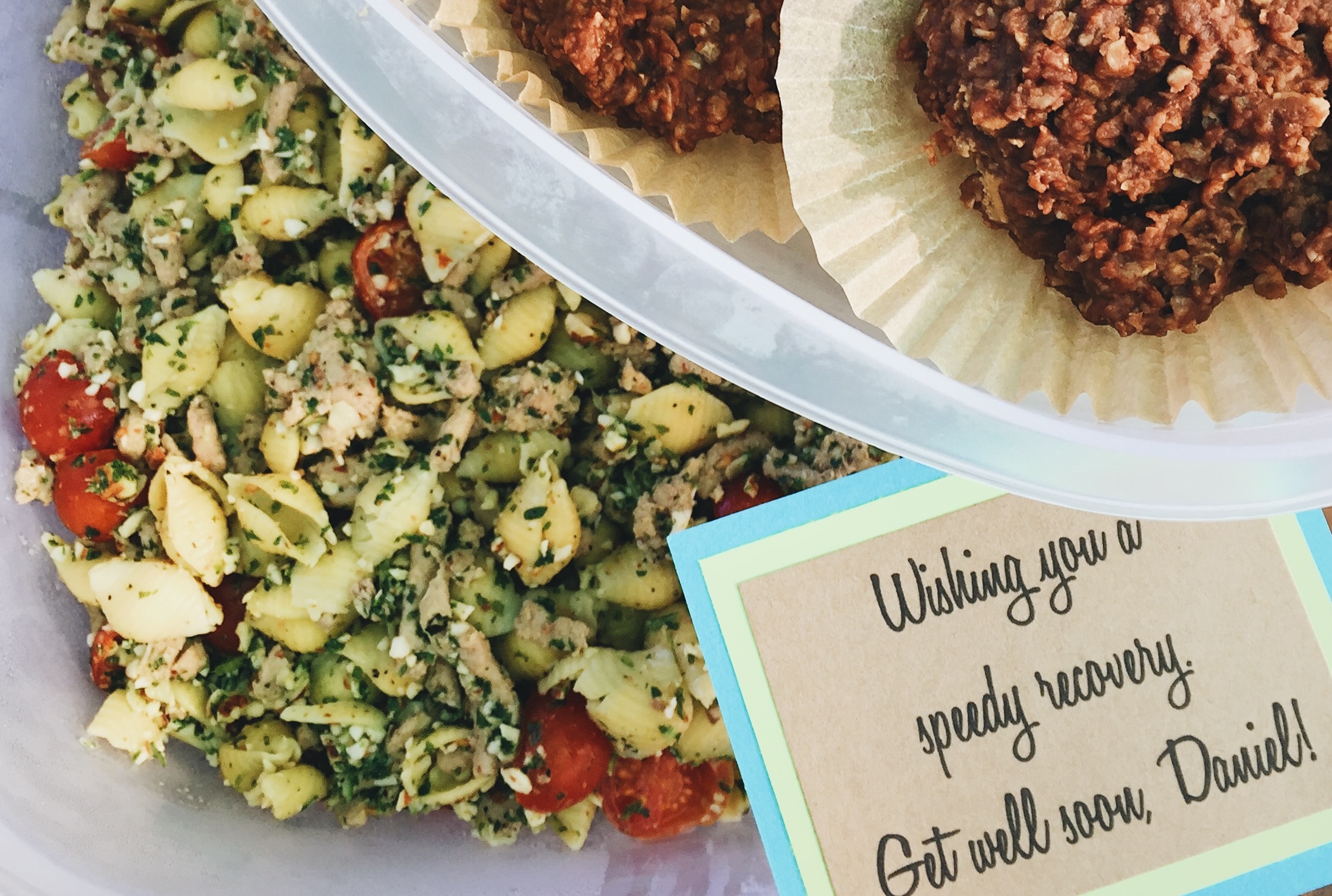 22 Jun

Easy Recipes for Creating the Perfect "Food as Medicine" Care Package

Know someone who's under the weather, undergoing surgery or maybe someone who's just had a newborn baby?

Rather than go with the traditional gift of flowers, why not give the gift of "food as medicine?"

While there is no doubt that flowers are a beautiful gift to receive, unfortunately they are also not very useful. And for someone who may be struggling to take care of themselves, or a new little bundle of joy, adding something else to their list of things to care for could prove to be more of a burden.

A healthy and healing meal on the other hand can provide comfort, support, encouragement and love to those you care about most.

Below are two of my favorite ideas for completing the perfect care package.
Pesto Pasta Salad
Why I Love It
From start to finish this recipe takes only 15 minutes to make and with 6 ingredients, anyone can do it! It's gluten-free and dairy-free, so even if you're not sure about dietary restrictions, you can at least cover two of the big ones automatically without having to make any adjustments.
Why They Will Love It
This pasta salad can be enjoyed warm or cold, it can be made into a lunch or dinner and it can be converted into a side dish or a main meal. Plus since all the ingredients hold up pretty well, it will last in the fridge for at least a week.
Food as Medicine Facts
This pasta salad is perfect, especially for someone who has recently had to stay in the hospital or who has received heavy doses of antibiotics. The reason why is the cilantro.
Studies have shown that cilantro can bind to toxins like arsenic, cadmium, aluminum, lead and mercury, loosening them from tissue and ultimately accelerating their removal from the body.
One study in particular conducted by Dr. Omura, director of Medical Research at the Heart Disease Foundation, found that antibiotic use is linked to the buildup of heavy metals in the body and that antibiotics actually protect these heavy metals causing certain infections to relapse overtime.
In this study, Dr. Omura used cilantro to help remove stubborn heavy metal deposits that continued to effect patients, even after the initial symptoms had gone away.
The results of the study showed that by adding cilantro to your diet while taking antibiotics, you can rid the body of the heavy metal toxins put out by antibiotics, and keep the infections from popping up again.
Recipe
Ingredients:
1 package of shell gluten-free noodles (I like to use Tinkyada brown rice noodles)
1 lb of organic ground chicken or ground turkey
1 bunch of cilantro
1/4 cup of almonds, macadamia nuts or pine nuts
1/4 cup of olive oil
Salt and pepper to taste
1 cup cherry tomatoes, halved
Directions:
Bring one pot of water to a boil and add your noodles (you can also add 1 tsp of salt to the water for additional flavor).
While the noodles cook, in a separate pan brown your chicken or turkey over low to medium heat (this will take about 10 minutes at this temperature). Be sure to break up the meat with a spatula while you brown it.
In a food processor add the cilantro, almonds, olive oil, salt and pepper and mix well.
When the noodles are done, rinse with cold water and place in a bowl. Add the meat, pesto sauce and cherry tomatoes and fold together until well combined.
That's it!
Chocolate Oatmeal Cookies
Why I Love It
This is another super easy recipe and with no oven time or cooking required, they only take about 5 minutes to make. This recipe is also gluten free, dairy free and vegan!
Why They Will Love It
With the high protein and healthy fat levels these cookies can keep just about anyone satiated for hours! Also, it's a much healthier take on an old favorite… need I say more?
Food as Medicine Facts
Oats are high in antioxidants and beneficial plant compounds called polyphenols. The most important antioxidants that oats contain are  avenanthramides, which help to lower blood pressure by increasing the production of nitric oxide. Nitric oxide helps dilate blood vessels which leads to better blood flow.
Avenanthramides also have a wonderful anti-inflammatory effect on the body.
Raw cacao has one of the highest concentrations of magnesium found in any food. Magnesium not only helps to lowers blood pressure but it also helps the body – both mind and muscles – to relax!
Recipe
Ingredients:
1/2 cup coconut oil
1 cup almond butter
1 cup quick cooking oats
1/2 cup raw cacao powder
4 Tbsp maple syrup
1 Tbsp non-alcoholic vanilla extract
1/4 tsp cinnamon
pinch of Himalayan sea salt
Directions:
Over low to medium heat, melt the coconut oil and almond butter in a small sauce pan stirring often. Once fully melted add the oats, raw cacao, maple syrup, vanilla, cinnamon and Himalayan sea salt. Combine well and let cool just enough to touch.
Scoop mixture into equal sized portions and form into cookies. Place on a cookie sheet lines with parchment paper and store in the fridge for at least one hour before serving. Store in the fridge long term as well.
Enjoy!
Living in a society where home cooked meals are now a novelty, being able to provide someone with a home cooked meal who may need it most may just prove to be the perfect gift!