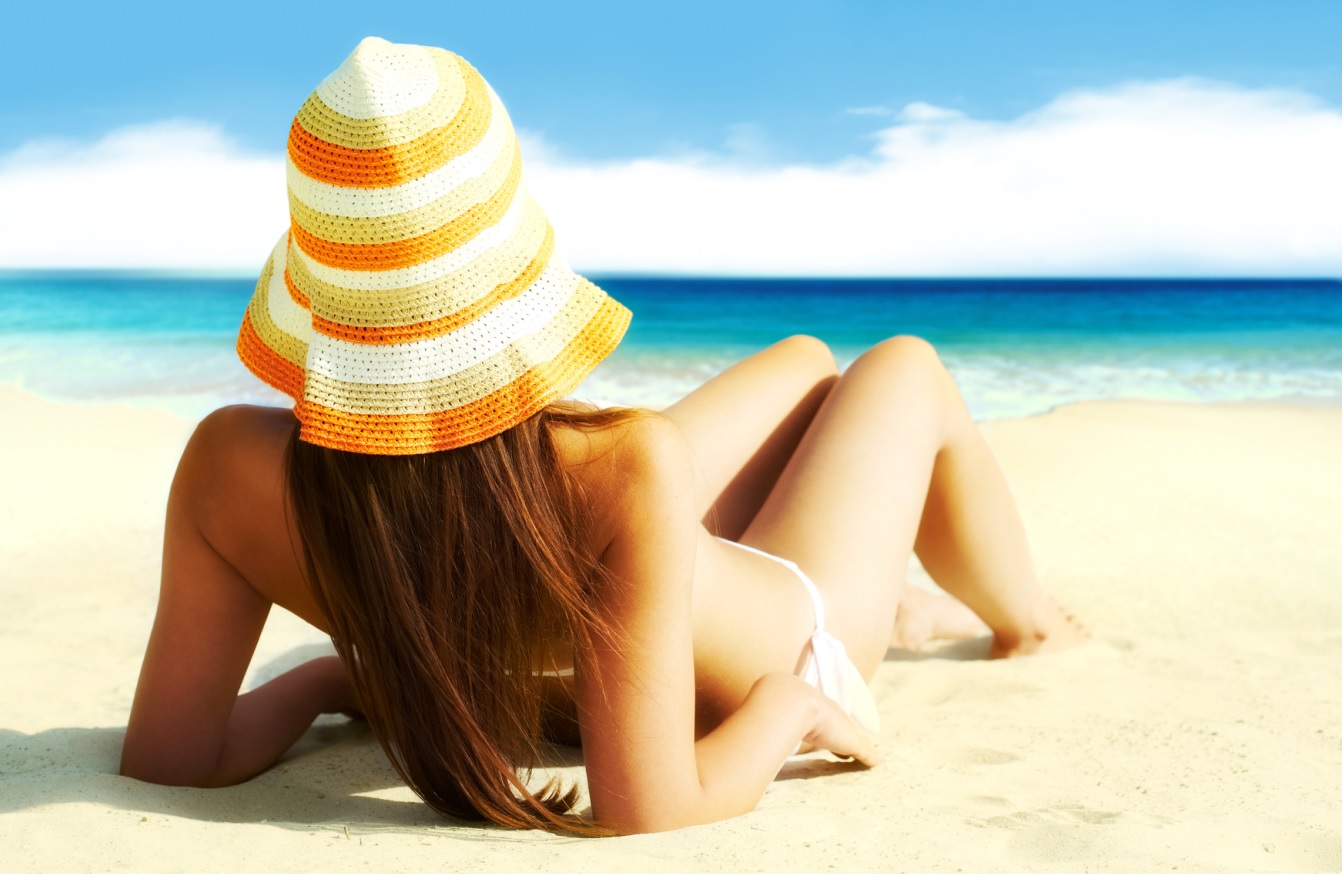 17 Jun

What You Must Know About Vitamin D and How To Choose the Best Sunscreen For You and Your Family this Summer

It's summer! You know what that means… summer vacations, trips to the pool, outside BBQ's and beach days!

With all this extra time spent in the sun you'd think we'd all have plenty of vitamin D to go around, but of all the client labs I run, vitamin D deficiency is the most common deficiency I find – even during the summer months – and it's one of the most important components I've found to creating true and sustained health for my clients.

According to the Vitamin D Council, 75% of the United States population is currently deficient in vitamin D.

Even in Southern California, where we get plenty of sun, it's been reported that about 80% of San Diegans are low in this essential vitamin and the main belief as to why this is, is because of the overuse of sunscreen. Sunscreen blocks 95-100% of the formation of Vitamin D from the sun.

Now before we dive into the topic of sunscreens I want to talk first about what vitamin D is and why it's so important.

Vitamin D isn't like most other vitamins. Your body is capable of making its own vitamin D when you expose your skin to sunlight, but your body can't make other vitamins. So getting the right amount of vitamin D doesn't depend on your diet, it depends on your skins exposure to the sun and possibly even supplements. This makes getting the right amount a little more complex compared to other vitamins and minerals.

Also what makes vitamin D unique, is that when  your body gets it and makes it, it turns the vitamin into a hormone called "activated vitamin D" or "calcitriol."

For years we've knows that vitamin D is very important for strong bones. Calcium and phosphorus, which  are essential for the development and strength of your bones need vitamin D in order to be absorbed. Even if you eat foods that contain a lot of calcium and phosphorus, without enough vitamin D, you can't absorb them into your body.

In addition to this research, scientist are now also discovering that vitamin D may be important for many other reasons outside of good bone health. Some of the functions of the body that vitamin D helps with include:
Wording off Depression
Lowering insulin levels
Immune health
Muscle function
Brain development
Anti-cancer effects
Cardiovascular function
Respiratory health
Although the Endocrine Society and Institute of Medicine standards, states that at 30 ng/ml you're getting enough vitamin D, the Vitamin D Council itself recommends that you aim for more then 40ng/ml and above (and I even recommend to some of my clients that they shoot for 50ng/ml)!
Can Vitamin D be washed off in the shower?
According to the Vitamin D Council, yes, vitamin D to a degree is washed off when you shower especially if you use soap and water within 24 hours of being out in the sun. But not all of it is washed off because vitamin D is synthesized in the epidermis, which is the protective outer layer of the skin, and there are transport proteins involved that will bring vitamin D into transportation regardless of your shower status.
However for those who don't get a lot of sun exposure, there is an argument that can be made in waiting to shower. And if you're out in the sun a lot, then chances are you're getting plenty!
Also, keep in mind that "soap" is really the villain when it comes to what washes vitamin D away. Vitamin D is a fat soluble vitamin, so just like oil, it needs soap in order to break down. If you were to just rinse after your time in the sun, then you can limit how much you're actually washing down the drain.
How to Protect Yourself
Our relationship with the sun is incredibly confusing and we've spent many years manipulating the way we are exposed to it and whether we're exposed to it. The consequences of this have been an increase in sun cancers and decrease in vitamin D serum levels – and that's a problem!
According to Liz Wolfe, bestselling author of Eat the Yolks and the Skintervention Guide, "We don't need to hide from the sun harder, what we really need to do is have more punctuated, natural exposure to the sun and less interfering with our bodies natural ability to generate vitamin D and also to repair itself."
This is why it has been my recommendation for years that my clients get consciences, regular, unprotected sun exposure for at least 10-15 minutes a day. But it's also very important to moderate your sun exposure depending on how fair your skin is. Some people can tolerate more, some people can tolerate less but getting to that point when you're outside just before you start getting to that "pink state" can really be a benefit to your overall health.
UVA vs UVB Rays
Understanding the difference between your ultra violet (UV) rays can be very helpful when choosing the right sunscreen for you. There are two different types of rays when we talk about sun exposure, there are UVA and there are UVB rays (there are also UVC but we'll talk about those another time).
Now UVB rays are what we generally think of as the "burning rays." We have been taught to think of this as a bad thing. They can burn us so they are bad – this is not generally true though.
What I would suggest is we need to think of the UVB rays as the "good rays" because not only do they cause that signal that tells your body you've had enough, but they are also the rays responsible for the generation of vitamin D.
UVA rays not only DO NOT help your body generate vitamin D, but they are also the rays that are responsible for the deep DNA damage that leads to malignant cancers.
What we're doing with most sunscreens today that are chemical based is we're blocking the UVB rays but not enough of the UVA rays. Chemical sunscreens use oxybenzone to scatter the sun's rays so the UVB rays are not absorbed but this doesn't mean that they protect us from UVA rays.
When you switch to a zinc oxide sunscreen, which provides a physical barrier against the sun's rays almost like a layer of clothing, you are blocking all the rays. So you are not getting a bunch of UVA at the expense of UVB, you're just blocking everything you can to the degree you can.  This is much safer from a chemical perspective as well as an absorption perspective.
Three of my top pics for sunscreens
For Kids
Badger Balm – Badger is great for kids! It's a very simple and clean formulation, which uses non-nano, uncoated, zinc oxide. It's also very, very white so it goes on pretty think – which can be a good thing or a bad depending on how you look at it.
About $10-$15
The Economical Buy
Goddess Garden Organics Natural Sunscreen – On the EWG's best sunscreens report for 2017 is Goddess Garden Organics. Goddess Garden does offer powerful sun protection and is made in a recyclable, non-aerosol container and is 100% biodegradable. Also includes ingredients like Aloe Vera and sunflower oil. It is a nano-zinc, which means it's more absorbed by the body which some people do have issue with, so you'll want to consider what is right for you and your family before purchasing.
About $10 – $20
The Splurge
Primal Life Organics Sun-Up Before Sun Protector – Hands down, my favorite sunscreen is Primal Life Organics which is made from non-nano zinc oxide along with a base of Red Raspberry Seed Oil combined with oils and essential oils that offer additional UV protection along with skin healing and cell regenerating properties. It's also a stick which I like because it ensures that the zinc doesn't separate into the solution.
About $40
Bottom line is this – when it comes to your exposure to the sun, do what's right for you. Moderate your time spent outdoors, but be sure to boost your natural vitamin D levels especially during the time of year that you have the opportunity to –  so that would be now, during the summer months – and then either cover up with clothing, look for shade or use a good zinc oxide sunscreen and enjoy your summer!
I hope you found this information helpful! If you have any questions, please leave them below and I'll respond at my earliest availability. Thank you in advance for your inquires and your feedback!